Somehow the good folks over at The Big Lead were able to dig up a video of Los Angeles Lakers superstar Kobe Bryant at the "PBA vs. SMART GILAS Game," whatever that is. In the video Bryant is seen walking down a long hallway when he's suddenly stopped by some fairly attractive cheerleading groupies.
First, the cheerleaders ask Bryant for a picture – a request he is happy to oblige.
Then things get interesting. One of the cheerleaders, as they're all posing for the picture, asks Bryant for a kiss. What follows is an inaudible reply by Kobe which either sounds like "No, I can't" or "Not here" depending on what you want to hear.
The latter option is obviously funnier, but the former makes more sense considering they were in a public setting and Bryant knew he was on camera.
What did he really say? Judge for yourselves based on the video below.
This NBA lockout is rough.
Voeckler finished the stage in second place and took over the race leader's jersey from Thor Hushovd.
The 27-year-old Sanchez is second overall, while Australian Cadel Evans is third overall.
"I'm so happy to win this stage as it was important for me and my whole team," Sanchez said through a translator. "It was really a hard stage today. The roads were thin the whole day long."
Veteran Kazakh rider Alexandre Vinokourov abandoned the race after crashing near the halfway point of the 208-kilometre trek from Issoire to Saint-Flour in the Massif Central.
Spanish rider Juan Antonio Flecha was hit by a car late on, and took down Dutch rider Johnny Hoogerland with him as he flew sideways off his saddle. Both recovered and continued the stage.
"Even before the accident a lot of cars brushed right past us," Sanchez said. "I understand that guests want to have a close look at the race, but we need to get a message across to the organizers so that the drivers are more careful."
Flecha did not speak to reporters as he boarded the team bus, but Sky team manager Dave Brailsford is considering making a formal complaint.
"We might bring the matter forward tomorrow, but tonight we are not making comments," he said.
Defending champion Alberto Contador fell early on, but the Spaniard was unharmed and rode on.
Victoria's Ryder Hesjedal finished the stage in 52nd, moving him to 43rd in the overall standings.
The 32-year-old Voeckler once defended the yellow jersey for nine days during the 2004 Tour, but he could not match Sanchez as he turned out of a corner and accelerated in the last 300 metres.
"These are good times. I wouldn't have bet on taking the yellow jersey today," Voeckler said. "Time passes and I appreciate this one even more."
Frenchman Sandy Casar finished third, and all three had been part of a breakaway early in the stage.
Flecha and Hoogerland had also formed part of the same early break, but their chances of a stage victory ended with about 36 kilometres to go when the car swerved into Flecha's side.
Hushovd had worn the yellow jersey since his Garmin-Cervelo team won last Sunday's team time trial, but the burly sprinter looked tired as he rolled over the line several minutes behind Voeckler.
This year's Tour has already seen several spectacular crashes, but none as wild as those on Sunday.
Vinokourov, who has said he will retire from cycling at the end of the season, was caught in a heavy crash that sent him and about 30 other riders tumbling like a house of cards. Several other riders retired as well.
Vinokourov was carried back up a small bank by an Astana teammate and staff member. They had rushed to his aid as he lay momentarily next to a tree, and helped him up on his feet by putting their arms around him.
Contador, having survived that early scare, stayed bunched in with the main pack, along with other Tour contenders such as two-time runner-ups Evans and Andy Schleck.
They all crossed the line safely, choosing not to chase Voeckler — who is not a Tour contender.
Voeckler and Casar, both former stage winners, upped the tempo in the first big climb of the day — the 7.7-kilometre ascent up Col du Pas de Peyrol — and the small front group was more than three minutes clear when they reached the top.
As the pack approached the second category 2 climb of the day up Col du Perthus, a mass crash had stricken riders picking themselves off the ground.
They included Jurgen Van Den Broeck and Frederik Willems, both Belgian riders on the Omega Pharma-Lotto team, and American David Zabriskie of the Garmin-Cervelo team. All three quit the race injured.
At the front of the peloton, in a show of solidarity, Philippe Gilbert and Fabian Cancellara asked the pack to wait for other fallen riders — which included Garmin-Cervelo's David Millar, who struggled on.
That extended the lead of the front five riders — and Voeckler's group was more than seven minutes clear after completing the 4.4-kilometre Col du Perthus.
Voeckler and Hoogerland took turns going in front down the descents and up smaller climbs like Col de Cere and Cote de la Chevade — with Casar, Sanchez and Flecha still in the mini-group of five.
After completing the final tough climb of the day up Col de Prat de Bouc, Voeckler's group led the pack by 4:40.
After a Tour car took down Flecha and Hoogerland, three riders were left to contest the stage, which culminated in a short, twisty and sharp 1.5-kilometre climb up to Saint-Flour.
"It's a shame for them because they rode hard with us all day," Sanchez said. "It's a pity they had to give up the stage win because of the crash."
Monday's rest day comes at a perfect time for the battered riders.
Spanish rider Luis Leon Sanchez won Sunday's crash-marred ninth stage of the Tour de France after forming part of a long breakaway in the mountains, while Frenchman Thomas Voeckler took the yellow jersey.
The Catholic service ended two days of pomp and followed an intimate civil ceremony Friday. The marriage of the 53-year-old prince and the 33-year-old Wittstock, a one-time Olympic swimmer from South Africa, ended a three-decade wait for a new princess.
The last wedding of a ruling prince in Monaco was in 1956 when Hollywood actress Grace Kelly married Prince Rainier III.
Saturday's ceremony was attended by guests including Chanel designer Karl Lagerfeld, former James Bond actor Roger Moore and French President Nicolas Sarkozy. Thousands of Monaco's residents cheered the proceedings while watching on large screens set up outside the palace, where both ceremonies were held.
Wittstock swept along the red carpet leading into the palace on her father's arm. In her sumptuous boat neck gown by Giorgio Armani Prive, her hair pulled back in a swirling French twist and with only the lightest touch of makeup, she seemed to channel the effortless elegance of Grace Kelly.
Throughout the ceremony, which lasted an hour and a half, both bride and groom had demure expressions. Only as they took their vows and exchanged rings did the solemn facade crack: As they slipped on the 18 carat white gold Cartier rings onto each other's fingers, Albert -- in a white military uniform -- shot her a wink, and Charlene cracked a broad, sincere smile.
The tears flowed freely down the new princess' face after the ceremony, as she left her bouquet of lilies of the valley and other white blossoms at the Sainte Devote church -- a tradition in Monaco.
With photographers shouting for the attention of the A-list guests as they streamed into the palace, the wedding had something of the flavour of a star-studded red carpet at the film festival in neighbouring Cannes.
British actor Roger Moore, a longtime Monaco resident and a former James Bond, lent a touch of secret agent glamour. The carpet might as well have been a catwalk for British model Naomi Campbell and Czech supermodel Karolina Kurkova.
Royal guests included monarchs from Denmark and Sweden. Prince Karim Aga Khan, the spiritual leader of the world's Ismaili Muslims, and Empress Farah Pahlavi, wife of Iran's deposed shah, chatted with former French first lady Bernadette Chirac inside the palace.
The last guest to enter according to protocol, French President Nicolas Sarkozy, elicited extensive applause and hoots of approval in what was likely the warmest welcome the leader, whose popularity ratings hover at record lows, has received in a long time.
The most enthusiastic welcome was reserved for the bride and members of the Grimaldi family, one of Europe's oldest dynasties. Albert's sisters, Princesses Stephanie and Caroline, both looked fetching in their short taupe dresses, Caroline's steely blue eyes hidden behind the oversized brim of her hat. Her daughter, Charlotte Casiraghi, was breathtaking in a pink off-the-shoulder cocktail dress by Chanel.
While Charlene -- whose name is now officially written with an accent to give it a more French resonance -- wore a blue ensemble of her own design to Friday's civil ceremony, she opted for one of her longtime favourite designers, Armani, for Saturday's wedding gown. The "petites mains" or seamstresses of his haute couture atelier put more than 2,500 hours of work into the dress, a strong-lined, made-to-measure concoction of more than 130 metres (about 140 yards) of different silks, 40,000 Swarovski crystals and 20,000 mother of pearl beads.
The ceremony, officiated by Monseigneur Bernard Barsi, Archbishop of Monaco, included moving performances by U.S. soprano Renee Fleming and Italian tenor Andrea Bocelli, as well as a tradition "click song" by South Africa's Pumeza Matshikiza -- a nod to the princess' roots.
After the ceremony, about 450 select guests tucked into a multi-course gala prepared by celebrated French-born chef Alain Ducasse.
Filet of golden mullet and a vegetable medley "arranged to portray a landscape typical of the coast of the Riviera," according to a statement, was the main event at the three-course meal, where everything besides the South African wines and Champagnes were sourced from within a 10-kilometre (6-mile) radius of Monaco.
Ducasse, who like many in his tax bracket has taken citizenship in Monaco, is the first chef to earn three Michelin stars in three different cities, including three for his Louis XV restaurant in the principality.
Charlene was born in Zimbabwe, but moved to neighbouring South Africa as a child, and under the tutelage of her mother, a swim coach, competed for that country at the Sydney Olympics in 2000.
Albert -- also a former Olympic athlete, having competed in five Winter Olympics as part of Monaco's bobsled team -- has been a member of the International Olympic Committee since 1985.
Albert and Charlene met during a 2000 swimming competition in Monaco. She then began appearing regularly at social events and moved to Monaco in 2006. Residents say Charlene has since maintained a low profile.
The couple's civil wedding on Friday was held in the palace's sumptuous throne room where Rainier III and Grace Kelly married. The actress died in a car crash nearly 30 years ago, and Monaco had been without a princess ever since. Known as a notorious ladies man, Albert long eschewed marriage, and many in Monaco had resigned themselves to forever having a bachelor prince.
The constitution was even modified to ensure the continuity of the Grimaldi line in case Albert never produced an heir. The prince has acknowledged having fathered two children out of wedlock, but only his legitimate offspring would be able to succeed him.
Rumours have swirled in recent days that a third illegitimate child had surfaced -- prompting Charlene to allegedly try to call off the wedding and return to South Africa days before the festivities.
The palace has denied the reports, dismissing them as "ugly rumours" prompted by spite and jealousy.
Charlene has told interviewers she would like to have children, and Archbishop Barsi asked those at Saturday's ceremony to pray for the fecundity of the princely union.
MONACO — Monaco's Prince Albert married Charlene Wittstock in an extravagant religious ceremony Saturday attended by international celebrities and royalty, bringing new allure to the tiny principality known for its luxurious casinos and as stomping ground for the rich and famous.
Until you learn that opponent is North Korea.
The 8th-ranked North Korean have been a perennial mystery, especially this year, having only played five games in the last six months. The team has no players with pro experience overseas, and only two players with World Cup experience, so it's hard to get a read on them.
"It's really difficult when you don't see much of a team and you're not familiar with how they play," U.S. defender Ali Krieger told the Associated Press after Monday's training session at Rudolf-Harbig Stadium. "We might get some nerves because you don't know what to expect."
North Korea has only participated in the previous three World Cups, and footage of their games is apparently hard to scrounge. The U.S. defeated North Korea 3-0 in their 1999 and 2003 meetings, but the teams tied 2-2 in 2007.
"They are technical, they're comfortable with the ball, they're reading the game very well and I think they're one of the best teams in the world between the boxes," U.S. coach Pia Sundhage said. "But the game and the field's a little bit bigger. You have to add the two boxes."
The North Koreans won the under-20 World Cup in 2006, and fell 2-1 to the Americans two years later. Forward Alex Morgan was a part of that 2008 winning squad, scoring the winning goal, though the memory of that game hasn't stayed much with her over the years.
"I don't remember too much. I just remember winning," Morgan said. "What I remember most is they're very technical, they love to play one-touch. They have some speed up top. I also remember they are physical, but aren't afraid to dive a little bit."
In the absence of information on their opponents, the Americans have decided to concentrate on their own game in their preparations. Despite being the defending Olympic gold medalists, America's reputation has taken a hit since its CONCACAF Gold Cup semifinal loss to Mexico in November, and more recent losses to Sweden and England. But the team is determined to justify its ranking as the top in the world.
"You lose a couple of games, and everybody thinks it's the end for you," defender Heather Mitts said.
They've done this before. After losing its opener at the Beijing Olympics, the U.S. was undefeated on route to its 1-0 extra-time gold medal victory over Brazil.
"The team we have is just a fantastic team," Sundhage said. "We have experienced players. The soccer we're playing right now is pretty good."
The team appeared confident and ready for Tuesday night's game as they drilled before fans at the stadium Monday, and afterwards signed autographs.
"We like being in this position," Mitts said, "and hopefully we'll rise to the occasion."
It might come as a surprise that the No. 1-ranked United States knows very little about its opponent in Tuesday's Women's World Cup Opener (11:45 a.m., ESPN).
The 25-year-old England international will join up with his new team-mates when United return to pre-season training on July 4 and admitted that he could not wait to begin his first campaign at "one of the greatest clubs in the world" as he attempts to make history under the guidance of Sir Alex Ferguson.
"It is surreal, but I am delighted to be here," Young told MUTV. "I am going to miss Villa, the fans, the manager and the staff, but to have the chance to come and play for one of the biggest clubs in the world is one that I could not turn down.
"To come here and play with such great players and have the chance to be part of a team that hopefully wins the 20th title would be amazing. The prospect of playing for one of the truly great clubs was one that I always looked at as a child and now that I am here I have to take the opportunity with both hands.
"You do get a buzz inside [when told United have made a bid]. You get a great feeling that one of the greatest managers in the world wants to sign you and one of the greatest clubs in the world wants to buy you. For me, as soon as I got the call, I wanted to get things sorted, get the papers signed and get in to training.
"United have that winning mentality and for myself as a player I have always wanted to be the best I can be. To come to a club like this you are always going to have challenges. I want to win titles and hopefully I can be part of that this time."
Young becomes Ferguson's second signing of the summer — alongside the former Blackburn defender Phil Jones, purchased for £16.5 million — and can be expected to be joined at Old Trafford by David De Gea, the Atletico Madrid and Spain Under-21 goalkeeper. The 20 year-old will cost around £18.3 million.
With Ferguson also keen to add a midfielder to compensate for the loss of Paul Scholes — Wesley Sneijder, Luka Modric and Samir Nasri are all thought to be under consideration — this is likely to be the Scot's most thorough overhaul of his playing resources for 15 years.
The 69 year-old wishes to rejuvenate his ageing side, with one of his stalwarts, Rio Ferdinand, quick to recognise the characteristics Ferguson seems to have prioritised in welcoming Young to Old Trafford. Ferdinand wrote on Twitter: "Welcoming Ashley Young to Manchester United. Another top, hungry and young player joins the ranks."
Young's move to Old Trafford completes a stellar rise for the Stevenage-born forward. He was rejected from Watford's youth academy as a teenager but eventually managed to earn a contract at the club, making his debut in 2003.
He impressed in the opening six months of the club's solitary season in the Premier League before moving to Aston Villa for £9.75 million in January 2007.
"Ashley has made a terrific contribution and everyone at the club wishes him the best," said Alex McLeish, the new Villa manager.
The Premier League champions had agreed a fee with Aston Villa and personal terms with the player before he departed on holiday to Las Vegas earlier this month and a club statement on Wednesday afternoon confirmed Young had passed a medical held at Manchester's Bridgewater Hospital on Wednesday.
Under the deal, Nokia said Apple will pay it ongoing royalties as well as a one-time sum, adding that the deal "will result in settlement of all patent litigation between the companies, including the withdrawal by Nokia and Apple of their respective complaints to the U.S. International Trade Commission."
The companies have been locked in a long-running legal battle over patent claims, with each side accusing the other of infringing on patents that cover features such as swiping gestures on touch screens and the built-in "app store" for downloading updated programs.
Nokia filed its first patent claim against the U.S. company in 2009 after which Apple countered by launching its own infringement claims.
"We are very pleased to have Apple join the growing number of Nokia licensees," said Nokia CEO Stephen Elop. "This settlement demonstrates Nokia's industry leading patent portfolio and enables us to focus on further licensing opportunities in the mobile communications market."
The financial details were not disclosed but Nokia said the settlement will have a positive impact on its second quarter result.
Nokia shares were up 3 per cent at C4.42 ($6.23) in Helsinki.
HELSINKI, Finland — Nokia Corp. has settled a long drawnout patent dispute with Apple Inc., putting an end to "all patent litigation" between the two companies, the Espoo-based handset maker said Tuesday.
But when Howard had the chance to meet the real Magic at age 15, it only took seven words to make Howard take his workouts even more seriously.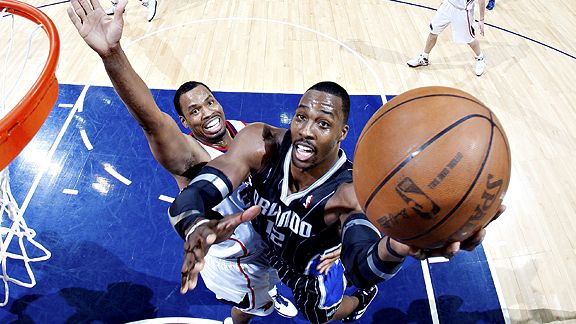 Those words? You'll never make it in the NBA.
That right, when Howard met the man who used to inspire him to play basketball as a kid, Magic Johnson actually told the teenage center that he didn't have what it took to take his game to the ultimate level.
"He said I was too skinny," Howard told me while we kicked back at the Ritz Carlton in downtown Los Angeles. Howard was there to introduce the new "adidas miCoach" fitness game, a product where gamers will learn training techniques from pros like Howard and Josh Smith in order to help them increase their vertical, strengthen their core, and build muscles using Howard's own tried and tested pushup routine so Hall of Famers don't look at you and call you "too skinny."
"Magic inspired me by telling me I wasn't going to make it, that I was too little," said Howard. "I was in tenth grade when he told me I was too skinny to play in the NBA. I said, 'OK, we'll see.'"
Thousands upon thousands of pushups later, Howard developed into one of the most unstoppable forces in the game. And it's those words from Magic Johnson that you can tell, still eat at him and inspire him to train to this day.
Howard shares those training methods in "miCoach" and hopes to inspire kids out there looking to not only get in better shape, but who are looking for a superstar to help motivate them as they play.
Here's what Howard had to tell me about the game after we watched a quick demo as we talked "miCoach," pushups, and what he'd like to see in "NBA 2K12."
Jon Robinson: Why should gamers put down their controllers and stop shooting each other in "Call of Duty" in order to workout with you in "adidas miCoach"?
Dwight Howard: I don't want to say that they have to put those games down just to play this game, but it's important for kids to play "miCoach" for 20 to 30 minutes to help get in shape. A lot of kids are like me, I'm not going to lie, I sit around with my friends and play "Call of Duty" all the time, but we're just sitting around and being lazy. But if you could put it down for just 20 to 30 minutes a day and train, you can get in shape. We have a problem with that in America. And since we can't get the kids outside anymore, since we can't get adults out to a facility, now we're going into their world, the virtual world, to train them.
Jon Robinson: Can you give some examples of workouts you teach in "miCoach" so we know what type of training we're in for?
Dwight Howard: Different types of pushups and crunches, then I also teach some workouts that I do for my legs and my back. There are a lot of exercises out there that will get you stronger, and a lot of what I'm into are exercises to keep your core strong. If your core is strong, everything else will fall in place.
Jon Robinson: I heard a rumor that you do 500 pushups everyday. True or false?
Dwight Howard: It's true. That's a great way to get strong. It's a competition between me and some of my friends.
Jon Robinson: How do you guys challenge each other with pushups?
Dwight Howard: The challenge right now is doing 100 without stopping. It's pretty hard, and there's only one person in our group who has accomplished that, and it's the smallest one.
Jon Robinson: Do you think "miCoach" will help motivate people when they see guys like yourself and C.J. Spiller in the game teaching them techniques on how to be better players in sports like basketball and football?
Dwight Howard: I think so. Just to be able to sit there and to be able to workout with your favorite star, no matter what sport you love, and that star is pushing you to actually get better. It's not like it's your basketball coach or one of your teammates pushing you. It's actually a star from that sport telling you, "Hey, you can do this, pick it up." And the athletes aren't only encouraging you, they're teaching you techniques on how to improve. People are always asking me on Twitter, "How much do you bench press? How do you get your shoulders like that? What do you do when you workout?" Now they get the opportunity to see what I do when I workout.
Jon Robinson: Beyond "miCoach," I know you're a big gamer. What are some of your favorite games right now?
Dwight Howard: I'm a huge gamer. I take my Xbox on the road with me. One of my favorite games right now is "WWE All-Stars." I love that game. I couldn't wait for it to come out. John Cena, The Rock, and The Undertaker are my favorites. Other than that, I'm always on "Call of Duty" and I'm always playing "NBA 2K11."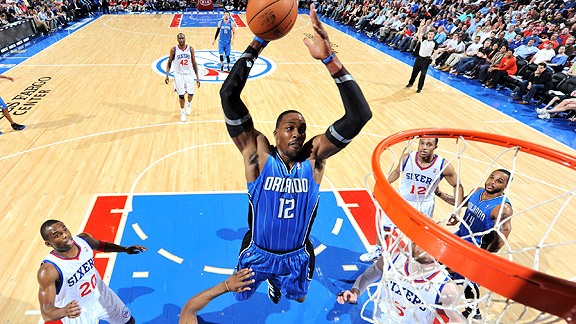 Jon Robinson: When you play "NBA 2K11," do you ever play as Michael Jordan and try to dunk on yourself?
Dwight Howard: I haven't tried to dunk as myself, but every time I try to play as Jordan, my friends think I'm cheating and want me to play as somebody else. The crazy thing about "NBA 2K11" is it's so realistic, you actually have to shoot like the person in order to make the shot.
Jon Robinson: When you play "NBA 2K11," do you ever trade yourself to other teams to scout out how you would do if you signed with a new team in free agency?
Dwight Howard: Oh no. That's a good trick question. [laughs] I've never done that. For the most part, I just like to test out each team before picking who I like to play with. It seems like most people like to play with the Oklahoma City Thunder in the game. They're a real good team in the video game.
Jon Robinson: Since you play so much "NBA 2K11," what do you think needs to be added to the game for "NBA 2K12" in order to take it to the next step?
Dwight Howard: I think they underestimate certain players in the game. Even myself, they have me super slow in the game. It takes me like 30 seconds to get down the court. I'm like, "I'm not that slow!" One thing I would like to see added to the game are actual player entrances when the players get to the building. Every player has their own style, so it would be cool to see LeBron show up in his jeans with a sweater and bow tie. I think people will really enjoy, not only playing as these guys in the game, but also check out their individual styles and the clothes they like to wear.
Jon Robinson: The "miCoach" game doesn't come out until 2012, but I was just wondering, as a fat, married, and unmotivated gamer, how are you going to motivate me to get moving?
Dwight Howard: The first thing is believing in yourself and believing that you can go to another level in training. We can always be better and get better. For myself, I want to get stronger. People say I'm too strong, but I still want to get stronger, and when it comes to basketball, I want to become a better player. I want to become a better shooter and a better post-up player, so I keep working out to get better. If you're looking for motivation to get in shape, I'll just tell you to do it for your kids so they can have someone to look up to. If they see their dad training hard to try and get in great shape, they'll want to do it too.
When Dwight Howard was a kid, he used to watch old basketball training tapes of Magic Johnson, then run outside and practice those techniques so feverishly, it's like he knew when he started ballin' at age three, that he was working out for his future in the NBA.
After the shock passed yesterday and I avoided anything Bulls-related for a little while, I realized that while this series was the most frustrating Bulls performance to watch, the team has made a huge turnaround in one season.
They managed to finish first in the league at 62-20. That alone is an amazing accomplishment.
This team was entirely switched up in the off-season. For the players to come together and play so well as a team so quickly isn't an easy task. The record also tied Thibodeau for most wins as a rookie coach and was a giant improvement from finishing 41-41 last season and clinching only the 8th seed.
Derrick Rose becoming the youngest MVP and Thibodeau grabbing Coach of the Year are just further proof of what the team has done all season long.
While it's easy to sit here and rant about all the mistakes the Bulls made and the horrible refereeing in the series and so on, I find it more productive to look at the big picture of things. And Bulls fans, it's not over. This is just beginning. The future is bright in Chicago.
The fact that Rose is only 22 years old and has even more potential to reach is reassuring enough. Rose is more motivated with the sting of a playoff collapse to improve on his weaknesses. But as we saw in the playoffs, Rose can't win the championship by himself. While the dubbed "Bench Mob" stepped up at times to relieve Rose offensively, along with Luol Deng, there were long stretches of head scratching plays and offensive droughts. The Bulls have the chance and need to acquire a number two to Derrick Rose over the summer.
Miami exposed Chicago's weaknesses more effectively than any team I've seen this season. They caused entire collapses and shut down Derrick Rose. Going into the off-season the Bulls, and the rest of the world, know exactly what to work on.
The Bulls are young and need more consistent experienced players. While Carlos Boozer was supposed to be that for the team, the playoffs showed he's a) already maxed out his potential and b) can't be counted on to consistently provide hustle, scoring, or defense. His $80 million dollar contract doesn't help with cap room either. Chicago could trade Boozer in a package deal with a guard like Ronnie Brewer and/or draft picks. The struggle for Chicago will be getting someone to take on Boozer's hefty contract.
Chicago has options. And they're determined to redeem themselves. As many players and analysts have said, you have to feel the pain of loss before you get the pleasure of a championship. Chicago is young and the inexperience as a team in the post-season got the best of them. If the Bulls can make a move to get help offensively in the off-season, there is no doubt they will have a shot at a title next season.
As Rose told reporters after the game five loss Thursday, "I'm going to get better; I'm not worried about that. It's going to make me hungry."
There were only three and a half minutes left in the game and the United Center was ready to burst with energy. Any Bulls fan knows that the 4th quarter is a nerve racking one, but no one expected the game to collapse as quickly and easily as it did.
red bottom shoes
The Lakers have a lot on their plate this summer. There's a new coach to be hired, and a roster requiring targeted upgrades in the wake of their unceremonious exit in the second round of the playoffs.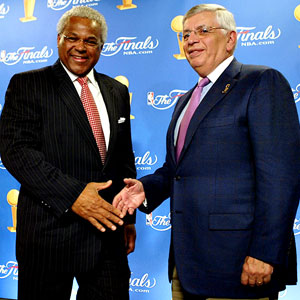 Important stuff all, and all stuff we'll explore at length in the weeks and months ahead.
Unfortunately, this offseason seems likely to be like none in recent memory, both in length and significance, thanks to what seems like the overwhelming probability of a lockout. Certainly Derek Fisher, president of the NBPA, didn't sound all that optimistic at his exit interview last week. The uncertainty of the labor situation means the Lakers can do little to effectively prepare for a normal summer's work. Challenges abound. Once the stoppage is official, there is no contact between players and teams. Even if they could talk, planning for next season or subsequent ones, whether through trades or free agency, without knowing what rules will govern the league is next to impossible. The uncertainty bleeds into the coaching search as well, since any doubt about how they can reshape the roster impacts who the Lakers could choose to replace Phil Jackson.
Plus, there are financial considerations. The Lakers, like many teams around the Association, may not want to pay a guy to coach during a work stoppage. This along with big picture fears the new CBA might hamper large payroll teams like the Lakers.
To get a better feel for how the labor issues could impact the Lakers, I hit up ESPN.com's Larry Coon, a guy who knows more about the current salary cap structure and what could come than anybody you'll find. He's keeping a close eye on the situation, and answered some questions for us:
1. Setting aside the likelihood of the labor problems and new rules, how much flexibility do the Lakers have this off-season to make changes?
Larry Coon: The phrase that comes to mind regarding the Lakers is "pot committed." The Lakers have constructed a championship roster, and locked it in for the next few seasons (essentially the lifetime of Kobe's prime). This comes at the expense of an enormous payroll and little flexibility. Their most valuable players are guys they won't trade (a possible Andrew Bynum for Dwight Howard deal notwithstanding), and their peripheral guys don't have a lot of trade value -- guys like Ron Artest and Derek Fisher. Older vets help you win championships, but you can't use them to tweak your roster on the fly.
If the new agreement resembles the current agreement, then the Lakers will have only the mid-level exception to work with. Their draft picks aren't very valuable because they'll be drafting entirely in the second round. By and large, they're committed to the current roster.
2. What are the best and worst case scenarios for the Lakers with a new CBA, in terms of keeping a winning roster together for the next couple years?
L.C.: The owners' proposal calls for a hard cap -- a salary cap that can't be exceeded for any reason. As a big-market team, the Lakers thrive on the current soft cap -- one that allows teams to keep spending above the cap, albeit with certain restrictions.
A hard cap vs. soft cap isn't a black/white issue. A cap is soft due to the presence of exceptions, which are mechanisms that allow teams to spend above the cap. If they eliminate exceptions or tighten them up, then the cap gets "harder." The harder the cap gets, the harder it'll be for the Lakers to maneuver. They won't be able to take advantage of their market size or spending ability any longer -- they'll be in the same boat with the small-market teams.
For the Lakers to continue to compete with the current group, the cap needs to stay soft to a certain extent. It has to allow teams to be over the cap, so they can keep their current roster together. The worst-case scenario for the Lakers (player personnel-wise) is a true hard cap.
3. If there is a hard cap, would that mean they'd have to start unloading dudes right away?
L.C.: Maybe and maybe not. First, how hard will the cap be? If it's a little soft -- i.e., if it allows teams to be over the cap but restricts their spending ability, then the Lakers can keep their roster intact. They may not be able to augment it much, but at least they won't have to jettison guys they'd like to keep.
red bottom heels
Second, even with a hard cap, it may not be a true hard cap right away. The owners' latest proposal calls for the current system to continue for two years, and for the hard cap to kick-in in year three. The Lakers would have two years -- both to win with the current roster, and to prepare for the upcoming hard cap.
Third, when the league changes the rules, they always accommodate teams in some way -- remember, teams make their roster decisions well in advance, and may have done things differently had they known how the rules would change. In 2005 they changed how the luxury tax works, and they accommodated teams via the amnesty provision, which allowed teams to waive one player and have that player excluded from the luxury tax.
In 2011 they're changing not just the tax rules, but the fundamental way the salary cap works. They're going to have to accommodate teams by providing mechanisms (such as another amnesty provision) to deal with the cap consequences.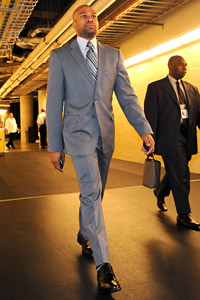 The last thing I expect to see happening is for teams to be forced to gut their rosters on short notice to be under a hard cap.
4. How do you think the length of negotiations impacts the team?
L.C.: The Lakers have been riding the NBA gravy train for some time. They are a profitable franchise, and have a large stream of local TV revenue. Local TV revenue stays local -- it's not shared with the other teams. This all means that the Lakers are profitable.
This is all about to change. The players' proposal calls for the problem of financial inequity in the league to be (at least partly) addressed through increased revenue sharing. Even David Stern says increased revenue sharing will happen ("two parallel discussions" is how I think he worded it at the All-Star Game, one between owners and players, the other among the owners themselves). So the Lakers will be giving a lot of their income to the league, who will distribute it to the small market teams.
So a new agreement is a mixed blessing for the Lakers. On the one hand, they'll be giving away more of their revenue. On the other, the league will have a new economic system which should help ensure that all 30 teams are profitable. So they're profitable now, and they'll be profitable in the future -- and it's too early to say which system benefits them more.
But in the meantime, if the league ceases all business, then the Lakers aren't making as much money. Granted, they aren't paying the players either, but the Lakers are one of the teams with a net profit every year, so a lockout hurts them. (Teams that lose money are better off NOT playing the season than playing it.) And the longer the lockout lasts, the more potential income they forfeit.
Then there's the general damage caused by a lockout -- the P.R. hit, the lost fans, the lost corporate sponsorships, the unfulfilled TV deals, etc. The longer the lockout lasts, the more damaging it will be.
And if it costs the entire season, then the Lakers will have lost their best opportunity to win another title.
But the owners sent a letter to the players' lawyers on Thursday asking that the sides return to the federal mediation service in Washington where talks collapsed March 11, according to a report on the league's website (www.nfl.com).
The letter said the players would receive assurances they would not compromise their legal position as a result of discussions in front of the federal mediator.
Nine players, including quarterbacks Tom Brady, Peyton Manning and Drew Brees, filed a class action antitrust lawsuit against the owners and requested an injunction against the league's lockout of the players after the talks broke down and the players union decertified.
Players attorney Barbara Berens wrote judge Nelson on Thursday saying the players were ready to engage in mediation without delay on their request for an injunction against the lockout.
But she added a condition.
"Our agreement is, of course, contingent on the NFL defendants' agreement that they will not attempt to use this, our willingness to mediate, against the (players in the lawsuit) in some way, for example by arguing that such mediation efforts constitute 'collective bargaining' or otherwise arise out of a 'labor relationship.'"
But league outside counsel David Boies said on Wednesday collective bargaining is exactly what is needed.
"If we are going to get a resolution, if we are going to get the people back to the bargaining table so that we can reach a settlement and have a football season; it is going to be necessary that we do it in a normal collective bargaining context," Boies told reporters after a daylong hearing on the players' request for a lockout injunction.
While the players would like to resolve their request for a lockout injunction and the antitrust suit, Boies made it clear a new collective bargaining agreement was paramount to owners.
"We don't need a settlement to a lawsuit; what we need is a collective bargaining agreement so that players can go back playing and the league can put on games," he said.
Until that occurs, he said, no progress is going to be made on a new labor agreement whose main issue is how to divide the NFL's $9 billion in annual revenue.
The players said on Thursday they accept presiding judge Susan Richard Nelson's suggestion both sides use the Minnesota federal court's services to mediate the players' request for an injunction against the league's lockout.